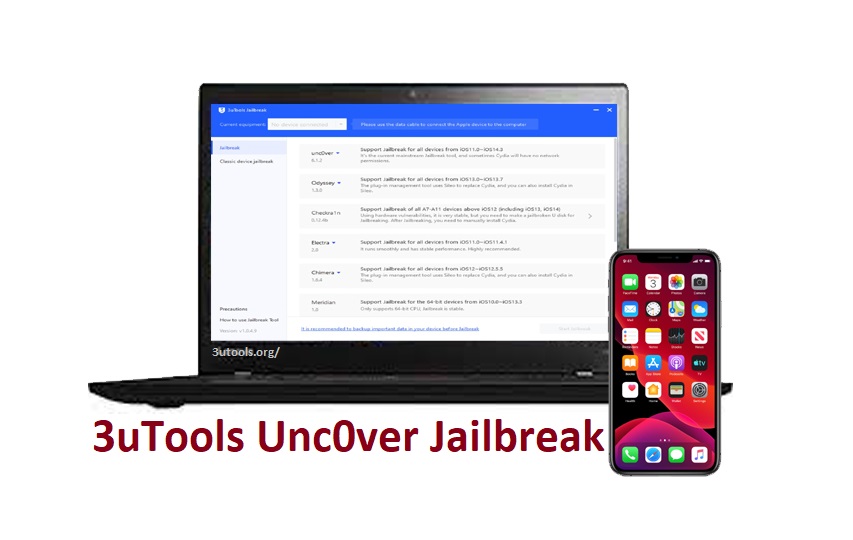 3uTools Unc0ver Jailbreak – An out-of-the-box fresh iPhone/iPad has so many limitations that you will soon feel like a little less than a prisoner of the said device. Of course, you can satisfy yourself with the basic functionalities of iDevice. Still, most of us are adventurous enough to try several system customizations, which require overclocking the privileges of the original iOS.
This we call jailbreaking, a term that has criminal implications if used in the legal context. However, the intensity of the act is much less in the domain of iOS jailbreaking. This process frees users from security/system restrictions and allows them to enjoy third-party programs and services. It grants them complete access to the operating system's core and benefits from all the features.
With jailbreak, you can bypass the locked configurations of iOS that block unofficial programs from being launched in the system. There are diverse methods to perform jailbreaks on iOS. Some of them are easier than others, and in this post, we will focus on how we can successfully jailbreak your iPhone, iPad, iPod Touch and Mac using Unc0ver Jailbreak with 3UTools.

The Unfavorable Aspects of Jailbreaking
Before we jump into the tutorial, we need to remind users of the evils of jailbreaking. Every operation has a downside, and this applies to jailbreaking as well. Default iOS comprises a superior level of security that harmful third-party programs can not breach.
On the other hand, the raw iOS is vulnerable to security exploits and can be infected with malware, viruses, and other similar threats. The overall system will also suffer from stability issues, potential crashes, and freezes. Some users have also reported early battery life.
Apart from all such chaos, you are likely to void your Apple Warranty, even though modern jailbreak methods have Fixes for this problem. Jailbreak corrupts Apple's automatic updates, and some critical updates cannot be installed and won't work even if installed.
Most users are already aware of these conditions, yet they choose to jailbreak, considering that the weight of benefits is higher than the drawbacks. If you have also decided to jailbreak, we recommend you use 3UTools.
What is 3UTools, and Why Jailbreak with it?
3UTools is an excellent iDevice Manager Tool that exclusively works on Windows PCs such as desktops and laptops. Your iDevice can be connected to the PC and then managed via 3UTools once it is installed on the PC. This software offers iOS Apps, Games, Ringtones, Wallpapers, Smart Flash, Toolbox, and Tutorials.
You can install apps and games on your PC via 3UTools and then play on your iDevice. To operate using 3UTools, you can link your iPhone/iPad to your PC through a USB cable or Wi-Fi network. The software allows you to manage, organize, upgrade, tweak, optimize, install and uninstall apps, games, and other services on the connected iDevice.
It can also help you flash and jailbreak your iDevice so that you can upgrade/modify it or remove its restrictions. 3UTools is a convenient program to jailbreak with several tools such as Unc0ver, Odyssey, Checkra1n, Electra, Chimera, and Meridian. For older iOS devices, it offers a jailbreaking facility called Classic Jailbreak.
Now Let's look at how to perform jailbreak on your iDevice using 3UTools with Unc0ver. Follow the below steps for the procedure.
Please ensure that you have backed-up all your important data before you proceed with jailbreaking
How to Jailbreak iPhone with Unc0ver Jailbreak using 3UTools?
First, you need to download and install 3uTools on your Windows PC.
Launch the 3UTools program with administrator privileges
Now connect the iDevice on the PC.
Locate the jailbreak function on the 3UTools Toolbox section
The Jailbreak interface will immediately show the various Jailbreak tools after the connection with 3uTools has been established. Select Unc0ver Jailbreak from the list and click jailbreak.
Please wait for the 3uTools Jailbreak tool to be installed. Until you see the message: Jailbreak is 100% installed.
Your iDevice will now have the Jailbreak tool loaded. Launch the Jailbreak application. You can now navigate to settings > General>Profile & Device Management and finally click trust.
Launch Unc0ver on iDevice
If a Sileo icon appears on the desktop after reboot, the jailbreak has been successful.
Unc0Ver Jailbreak – The Best Jailbreak Tool?
Unc0ver jailbreak is one of the most in-demand jailbreak tools for iDevices. It is the most sophisticated jailbreak tool available and is not compatible with all iOS versions—this jailbreaking method guarantees a high degree of stability and security.
According to the developers, the tool is enhanced by proper and deterministic techniques that certify stability. Unc0ver's security stems from the utilization of native system sandbox exceptions. Unc0ver has been extensively tested on hundreds of iOS devices. These tests have favored the capacity of the tool in jailbreaking without worries.
Benefits of Unc0ver Jailbreak
When you jailbreak your iPhone/iPad with Unc0ver, you are free from security vulnerabilities common to jailbroken devices through other tools. The battery life is also retained without a loss. Most of Apple's services remain functional even after the jailbreak. For example, you can still get benefits such as iCloud, iMessage, FaceTime, Apple Pay, Visual Voicemail, Weather, and Stocks, which have been reconciled and still work on the device. Unc0ver protects your devices' updating ability and remains active after the jailbreak procedure.
Jailbreak with 3UTools Frequently Asked Questions
Is 3uTools safe?
A – When you use 3uTools, your personal information is protected by several different security mechanisms. Does the company share any information with the outside world? It does not sell, trade, or transmit your personal information to other parties.
Can I jailbreak my iPhone with 3uTools?
A – 3uTools has a "Jailbreak" tool for people who wish to rapidly and easily jailbreak their iPhones and iPads.
Is 3uTools free or paid?
A – This is a free all-in-one utility for iOS users that have been around for a long time with many critical improvements.
Final Thoughts
Using 3UTools to jailbreak is one of the most convenient methods of bypassing iOS default security. The output is even more remarkable when 3UTools incorporates Unc0ver as its jailbreaking method. This is because Unc0ver is the most advanced jailbreak and comes with some powerful features that no other jailbreak tool delivers.
It is safe and secure and even more beneficial when combined with 3UTools. You can connect your iDevice and jump to the toolbox of 3UTools, where you find the jailbreak option. When you click on the function, you are given a list of jailbreak tools and can select Unc0ver.
You can follow the simple instructions and get the jailbreak performed on your iDevice. It will not take much time, and voila! Your iPhone is unlocked for full access. Comment us your 3UTools jailbreak issues below, and we will try to provide solutions as best as possible.