AllTrails: Hike, Bike & Run – Boost Your Outdoor Adventure with AllTrails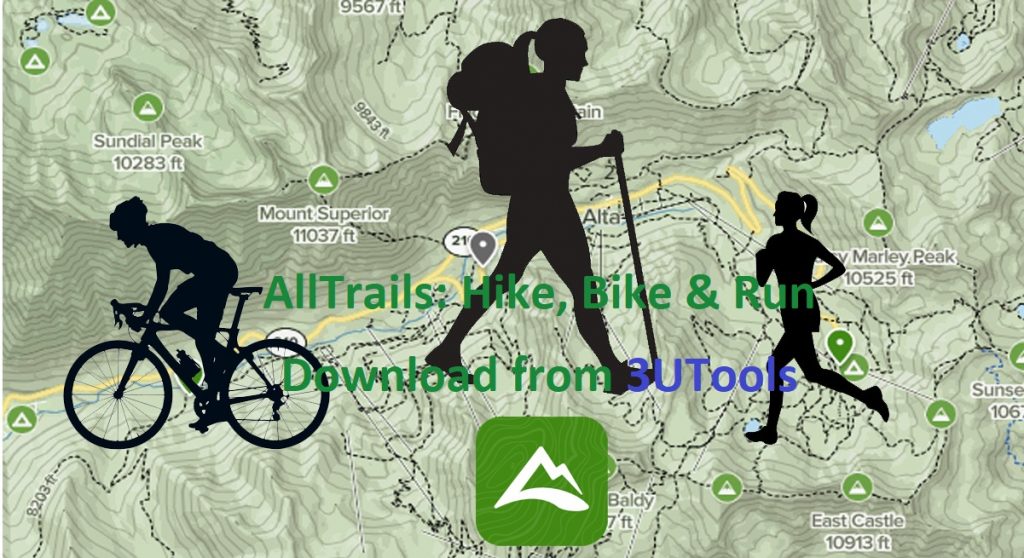 AllTrails: Hike, Bike, & Run is the most thrilling way to embrace your outdoor escape, whether on foot, on a bike, or any other means. This app allows you to explore your surroundings and environment with tons of exciting data and lifts your hiking, biking, and backpacking activity to the next level.
If you have been missing an outdoor adventure with your friends and want to have it in a novel way, you can download this app to your iPhone or iPad and begin it with all the vigor. This app can ensure good health and great exercise for your body as it fills you with outdoor physical activity.
Suppose you are not getting the help of an app but rely on a physical map. Your fun may be limited or not enhanced; however, the AllTrails app is there to boost your outdoor experience with a wealth of data that you don't have access to by traditional means.
AllTrails: Hike, Bike & Run Specifications
| | |
| --- | --- |
| App | AllTrails: Hike, Bike & Run |
| Version | 15.5.0 |
| Updated | Jun 17, 2022 |
| License | Free |
| Platform | iOS |
| Size | 118.5 MB |
| Developer | AllTrails, Inc. |
| Category | Health & Fitness |
AllTrails: Hike, Bike & Run app latest version download for iOS, iPhone, iPad, iPod Touch from 3uTools appstore.

Welcome to Experience a Lot of Excitement
With AllTrails, you can explore the great outdoors! Hiking, biking, backpacking, and jogging routes may be found all over the globe. It Keeps a record of your outings with the help of our GPS activity tracker. Want to go camping or hiking but don't know where to start? In the AllTrails community, you may find a wealth of inspiration.
You may use trail maps to discover the kid- or dog-friendly routes you've been looking for. If you've always wanted to go mountain biking or horseback riding, now is the time! Take a trip to a national park or explore new jogging, bicycling, and hiking routes in your own neighborhood! Get to the trailhead, download the offline maps, and begin your outdoor experience. It doesn't matter whether you're looking for a hiking path or a cycling route; AllTrails has you covered.
Impressive Features of AllTrails: Hike, Bike, & Run
Hiking and Mountain Bike Routes Count More Than 300,000
Discover new hiking, biking, and trail running trails in your neighborhood or country with detailed trail descriptions, photos, and user reviews provided by other trail users like you.
Find the perfect hike, bike ride, or trail run for your fitness and experience levels on AllTrails. Walking pathways for dogs, children, and those with disabilities may be found here.
It's easy to keep track of your outdoor adventures with the AllTrails GPS Activity Tracker, which turns your phone into a GPS activity tracker.
Analyze your hiking, running, and cycling performance in one place.
Use social media platforms like Facebook, Instagram, and WhatsApp to keep your pals updated on your newest adventures in backpacking, hiking, jogging, and mountain biking.
Favorite Trails Can Be Saved – Become familiar with all the hiking and cycling paths on your bucket list and add new ones to your itinerary. It's simple to bookmark and return to your favorite routes for running, hiking, camping, and biking.
Follow the people who motivate you to go hiking, biking, or running.
In just a few taps, you can acquire GPS driving instructions to the trailhead and be on your way in no time.
Visit some of nature's most stunning places by taking a hiking tour. There is a path for everyone on AllTrails, no matter how to fit or experienced you are.
Dozens of Benefits and All for Free
I found the AllTrails – Hiking & Bike app easy to use. When a user clicks on a specific part of the map, a list of all the trails in that region is shown. You can easily choose the appropriate path based on other users' ratings on the difficulty level, beauty of the landscape, and other aspects. If you need to change the trails while on the road, you may do so at any time.
Hikers and bikers will find AllTrails – Hiking & Biking a valuable tool for discovering new paths users must be linked to GPS at all times to use the app since there is no way to use it if disconnected. This rapidly drains battery life, and individuals who don't have adequate battery power may soon find themselves in the cold. Users must pay a monthly membership fee to utilize maps offline.
With AllTrails Pro, you'll get even more!
If you don't have a signal, you can still track where you are on the route by downloading offline maps. With off-route warnings, you'll never miss a turn again. Protect yourself with Lifeline designate safety contacts who are aware of your strategy and can monitor your progress. The real-time map overlays include air quality, satellite weather, pollen, and light pollution.
Create and print beautiful bespoke topo maps as a safety net. AllTrails is ad-free so that you can concentrate on the adventure rather than the commercials. Knowing that 1% of your monthly membership cost will go toward environmental conservation makes you feel good about your decision to subscribe. Annual subscriptions to AllTrails Pro cost USD 29.99.
AllTrails: Hike Bike & Run Frequently Asked Questions
Is AllTrails pro worth it?
A – There will be no more advertisements. Ads on the free AllTrails edition might be a nuisance. The good news is that when you upgrade to AllTrails Pro, you won't have to deal with any advertising. There are no adverts to distract you from your search for a new trek or your map view when using this app.
Is AllTrails app free?
A – There are two subscription levels available to AllTrails' customers. It's completely free to join as a Basic Member. If you're a frequent hiker, the Pro Membership, which costs $29.99 a year, is a wise investment. Detailed descriptions of each feature are provided below.
Which is better, AllTrails or Gaia?
A – Gaia GPS has greater maps and GPS functions, and it costs $19.99 a year to have all the features and extra maps. It costs $29.99 a year to use AllTrails in the wilderness. However, there are few maps and features. Both free applications provide a trail search function.
Final Thoughts
AllTrails is a compulsory app for all avid hikers, bikers, backpackers, and other outdoor adventure seekers. It is enriched with an extensive database of maps, trails, routes, and valuable geographic content that most adventurers yearn for.
You can use AllTrails on your iPhone and iPad device, and it is also possible to use 3uTools PC to download and install the AllTrails app should there be any circumstance to use your laptop connected to your iDevice. You will find that this app is constantly updating and is supported by millions of users who support it with great admiration.
There are only a few competitors for AllTrails, and it stays ahead in its game with all the great features and functions. The free version of AllTrails is dependable despite the crowd of commercials inside. You can significantly benefit from AllTrails: Hike, Bike, & Run whenever you are on the edge of adventure.