3uTools Flash – Easy Flash, iTunes Flash, Pro Flash, Multiple Flash. 4 flashing modes in Pro Flash as Quick Flash Mode, Retains User Data Mode, and Anti Recovery Flash, Reserve Baseband while Flashing Mode.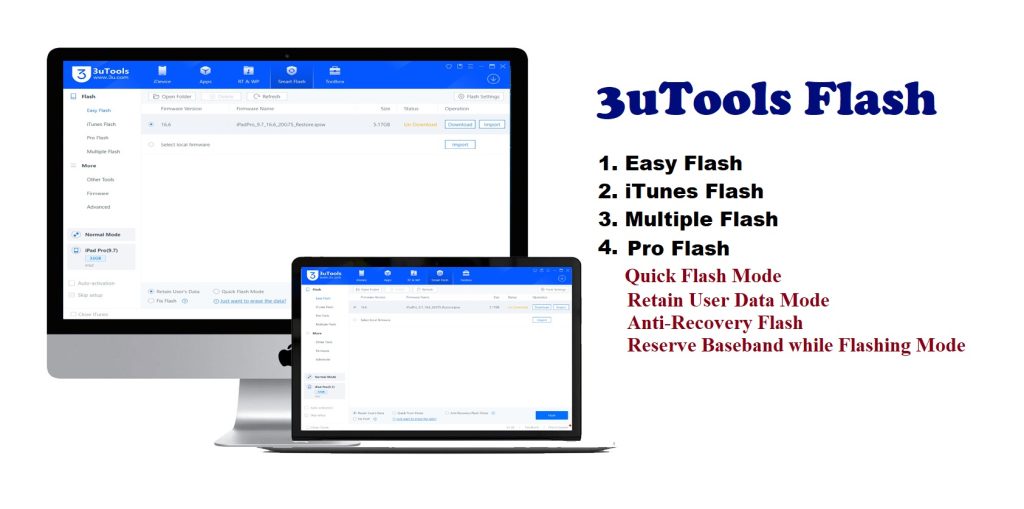 3uTools is an excellent file and data management utility for iPhone/iPad/iPod Touch devices. Operating on Windows-based devices such as desktops, laptops, or even netbooks creates a bridge between your PC and an iDevice via USB or Wi-Fi. With the help of 3uTools, you can manage Apps, Photos, Audio, Video, Documents, and Other Multimedia Content on your iDevice.
It allows you to view the status of your specific iOS device and offers activation, jailbreak, battery, and iCloud statuses. Furthermore, it houses many different tools which can tweak, optimize, update, upgrade or even jailbreak your iOS device. In this post, we focus on the Flash function of 3uTools, which benefits users with four dedicated flash services.
3uTools App Specifications
| | |
| --- | --- |
| App Name | 3uTools |
| Version | 3.02 |
| Updated | July 20, 2023 |
| Category | Utilities |
| Price | Free |
| Platform | Windows |
| File Size | 202.08 MB |
| Developer | 3UTools |
Welcome to an Efficient iDevice Flash Utility
First of all, we must remind all our readers that 3uTools is a dynamic app with regular updates, and the services offered in the program can renew respectively. We will try to bring you updates as soon as possible, and we beg your pardon for any delays. Now let's turn to an explanation of 3uTools Flash. The Flash operation can reinstate all iOS devices to the appropriate iOS firmware whose signing Apple has not aborted.
This refers to an unrevoked state of iOS. It can downgrade certain iOS devices, like the iPhone 4 and 3GS with SHSH file support, to the compatible iOS firmware. It can also renew all iOS devices to the latest firmware. 3uTools' efficiency of downloading and flashing is quite remarkable, and you will experience this firsthand when you use the function for the first time.
Automatic Firmware Detection for the Best Results
3UTools excels as a complete iOS tool, which presently supports iOS 10.3 beta flash. You can manually check which firmware your iOS device supports flashing now by clicking Flash Jailbreak > Pro Flash > Query SHSH. The program can also automatically pick the suitable firmware for your iDevice and allow access to download possible options at high speed.
The entire process of flashing with 3UTools is easy as it includes inbuilt firmware detection and the possibility to download accordingly. It eliminates your need to rely on multiple tools to prepare for the flash process. 3UTools Flash restore and upgrade are available for various devices, including iPhone3G/3GS, iPhone4/4S, iPhone5/5C/5S, iPhone6/6 Plus, iPhone6S/6S Plus, iPad1/2/3/4, iPad mini1/2/3/4, iPad Air1/2, iPod Touch1/2/3/4/5/6, and others. The downloading and flashing process is swift.
3uTools Flash – The Range of Possible iOS Downgrades
Knowing which iOS devices are compatible with 3uTools Flash's downgrade feature is crucial, since doing so allows you to install the iOS firmware version of your choice on the device. This is useful if you want to experiment with older iOS apps and games. However, you need to know that a downgrade erases all the data stored on your device. So, your important data should be backed up externally. We request you click on Flash Jailbreak > Pro Flash > Query SHSH to know which firmware your iOS device can flash.
Without a SHSH file backup, you may use 3uTools to downgrade a wide variety of iDevices, including the iPhone 3GS, to iOS4.1. If you have a backup SHSH file for your iPhone 4, you may use 3uTools to downgrade to any iOS version that works with your device. Using 3uTools, you may downgrade from iOS 9.2.1 to iOS 9.2 on the iPad 2, 3, 4, Air 1, 2, 5, 6, and mini 1, 2, 3, 4.
The Four Different Types of 3uTools Flash
After you have connected your iOS Device to the PC, you can launch 3uTools. We recommend running the program in administrator mode. You will see that the 3UTools interface is sectioned with specific functions, and the navigation is relatively smooth. Go to the Smart Flash section of the app, and under the Flash menu, you will find four flashing methods.
These are Easy Flash, iTunes Flash, Pro Flash, and Multiple Flash. The beauty of 3UTools is that you never become confused exploring these different functions, as there are tutorials with overwhelming help. The app is blessed with a minimalist design, making every moment you spend with it direct. Next, we break down each 3UTools flash function one by one.
Types of 3uTool Flash and their Modes in Detail
You will learn what each of these methods is supposed to do and how they benefit you. We cannot provide detailed instructions for each flash method in this post as their scope is too large.
Easy Flash – It comprises three modes which are known as Quick Flash Mode, Retains User Data Mode, and Anti Recovery Flash

Maintenance workers, salespeople, and ordinary users may utilize this mode for the following purposes: Update iOS quickly, wipe user data, reset to factory settings, or repair iOS version.
In this mode, only iOS updates or fixes are done. The iDevice keeps user data and applications.
This approach is suitable for removing private info from an iDevice or selling it. The iDevices hard drive chip includes separate memory units that must be formatted, therefore flashing will take hours.

iTunes Flash – iTunes displays the whole process when flashing. You can instantly repair any errors while flashing, or we can provide a repair suggestion based on the problem code.
Pro Flash has Quick Flash, Retain User Data, Anti-Recovery Flash, and Reserve Baseband when Flashing. Baseband reservation is possible with Pro Flash. For locked smartphones, devices with no signal, and other strange devices, updating iOS software won't impact the baseband version. This feature is only available in iOS 7 and earlier on iPhone 3G/iPhone 3Gs/iPhone 4, the first iPad, and the iPod touch.
several Flash – 3uTools V 2.07's new Multiple Flash capability enables users flash or activate several iDevices. After connecting an iDevice to a PC via USB, 3uTools will automate several Firmwares. It supports "Auto-activate after connection" and "Retain User's Data While Flashing." Most importantly, each port does not affect flashing status or option.
3uTools Flash Frequently Asked Questions
What does Flash mean on 3uTools?
3uTools Flash can restore iOS devices using SHSH file backups. It can also downgrade specific devices like the iPhone 4 and 3GS, and update all devices to the latest firmware.
Is 3uTools Flash Safe?
3uTools Flash program has no intrinsic capability to harm your iDevice other than the expected effects such as loss of data in any flash process.
What is Multiple Flash in 3uTools?
The function of Multiple Flash is to flash or activate several iDevices concurrently. It enhances the efficiency of flashing if you have multiple devices
Can I use 3uTools on my iPhone?
You can not use 3UTools on iPhone without connecting your iDevice to the Windows or Mac PC. 3uTools Windows and 3uTools Mac must be installed on Windows or Mac and connected to the particular iOS gadget via USB or Wi-Fi.
Final Thoughts
3uTools is one of the handiest file and data management utilities for iPhone/iPad/iPod Touch devices. Concerning the variety of tools, tweaks, apps, and services it houses, it is more than a mere file manager for iDevice. It can perform sophisticated processes like Jailbreaking and Flashing quite efficiently. You don't need to exhaust yourself instructing this app with manually located specifications; it automatically detects all information and status about your iDevice and executes complex operations like Flashing swiftly.
You can also choose from different flashing modes and perform these operations according to your level of expertise. For instance, easy Flash contains convenient flashing for inexperienced individuals. 3UTools developers stay ahead of their game with industry-leading technology and with appreciable up-to-dateness.