3uTools is an all-in-one tool which computer base for all iOS devices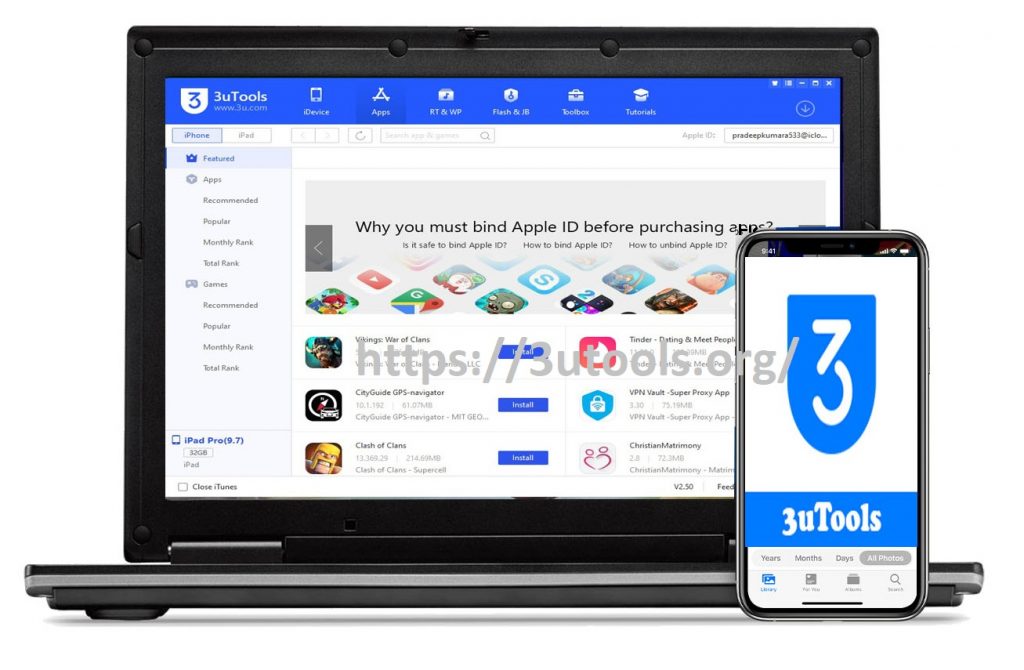 Welcome to 3uTools Store for ios. Here you can find all information about iOS and 3uTools. 3uTools is a third-party app store created for Windows users who own iOS devices, such as iPhones, iPads, or iPods. It also provides flashing and jailbreaking facilities for iDevices. User has the ability to use 3uTools for jailbreaking purposes as easy Mode or Professional Mode. This utility provides you with a simple and quick way to handle your iOS files, transfer data from your computer to your Apple device and install any third-party tweaked apps.
3uTools Download Free
3uTools: The Apple Store Alternative
Download Games, Apps, Mods, Tweaked, Entertaining, Books, Movies, Music, Wallpapers, Ringtones, and many more for free. No limitations or subscriptions are required. Unlimited features are available. The best alternative for Apple Store & Other third-party stores.
User Friendly
Due to creative organization & clean design, it became so much familiar with Apple users. Its interfaces are easy to understand and handle for anyone who needs some changes on their iDevices.
Customization
The application can be adjusted according to your requirement. Every application easily can be found from here. Visit our FAQs Page for more info.
Safe and secure
Quality production without any hidden errors. Contain trusted Apps and Games and daily checked for malware and viruses. No harm for iDevices.
Maximum download speed
No matter about your connection, Cellular Data, or Wi-Fi, it has a remarkable download speed, and installing is also the same. Don't need to waste your single seconds.
Latest Apps versions
Get the latest version of Apps and other tweaks, you can find any previous version according to match your device. Little in File Size & rich in features.
No hidden payments
Many apps and tweaks are free to download but do not contain any hidden payments and that helps the user save money. There are some PRO & VIP apps versions also available. You can go ahead with them by purchasing.
Easy to Use
Since this app is very similar to Apple Store there is no need to learn how to use this app.
3uTools Install on Windows PC
Unfortunately, 3uTools isn't still available for macOS. It is a computer-based App Store that can easily run with Windows. With installing this app store on Windows, enjoy awesome ios apps and games. The installation process is simple and easy to follow.
Visit our Download Page to install the latest version of 3uTools for ios/Windows. All the details will be described there with simple image guidance steps.
3uTools PRO/ VIP Versions
3uTools is one of the top-ranking Apple App Store for ios users. You can download and install the latest version of Pro or Premium apps for free. Some of them can't find even from the official App Store as well. If you're looking for 3uTools PRO or 3uTools VIP Versions, what is the use of it, if everything is simply available here. There are no restrictions, full freedom over your apps, and tweaks.
3uTools for iPhone/iPad/iPod Touch
This app store is mainly available and supports iPhone, iPad, iPod Touch devices only. But, it cannot directly install to the iDevices. Through the Windows PC or Laptop, you can get complete service from 3uTools. In the future, 3u Tools developers will be considered on Android Users, until then Android users please be aware when installing this app for Android.
FAQ's
What is 3uTools?
3uTools is a free software program that lets you manage your iOS device data through your PC computer or laptop. It is an easy way to manage your iOS apps, multimedia files, ringtones, and everything on your device. You can use it to see the different tasks on your iDevice and that includes activation, battery, iCloud lock status. And also, the data management tool features the option to jailbreak your iDevice with one click.
Is 3uTools Free?
Yes, always it is free for you. All those cool features are available without you having to spend any money at all. There are some apps also available to purchase as you wish.
Is 3uTools available for Mac?
No, actually not. But 3uTools does work with Apple products only, and still, there is no active version compatible with Mac operating systems. You can use the program on Windows PCs with iOS portable devices for free.
Is it Safe to use 3uTools?
Yes. The developers pay much effort to ensure there is nothing malicious or harmful things on the 3uTools app and are fully tested before being released to the public. You can safely install the 3uTools for Windows PC computers and laptops which are containing Windows 10, Windows 8, Windows 7, Windows Vista, and Windows XP 32-bit and 64-bit operating systems. The application is compatible with iPhone, iPad, and iPod devices.
How Do I Install 3u Tools?
The process will be simple if you follow the steps on Download Page here. It is pretty much automatic and requires only simply one click on the provided download link there.
What are the devices that 3u Tools Compatible With?
This is a computer-based application for ios devices. 3uTools cannot install directly into the iDevices. 3uTools is still not available for macOS, Linux but only for windows. Which are containing Windows 10, Windows 8, Windows 7, Windows Vista, and Windows XP 32-bit and 64-bit operating systems can successfully install this 3uTool App. It is compatible with any iPhone, iPad, or iPod Touch which runs with iOS 4 or above.
What can 3uTools be used to download?
Plenty of anything. Including tons of applications, wallpapers, ringtones, themes, games, tweaked apps, Jailbreak apps, and other kinds of programs that you can't find anywhere else.
Can 3uTools be used to speed up iDevice's Performance?
Yes, there are a lot of tools available in 3u Tools for this. Garbage Cleaner is one of them. If your system performance isn't as good as you want it to be, then use Garbage Cleaner to remove junk, duplicates, and other unneeded files and you can see it works like a brand new iDevice.
Is it possible to backup personal information with 3uTools?
Yes, it is possible. 3uTools lets you back it all up and restore it as and when you need to. So, it works as iTunes & iCloud to save your personal information.