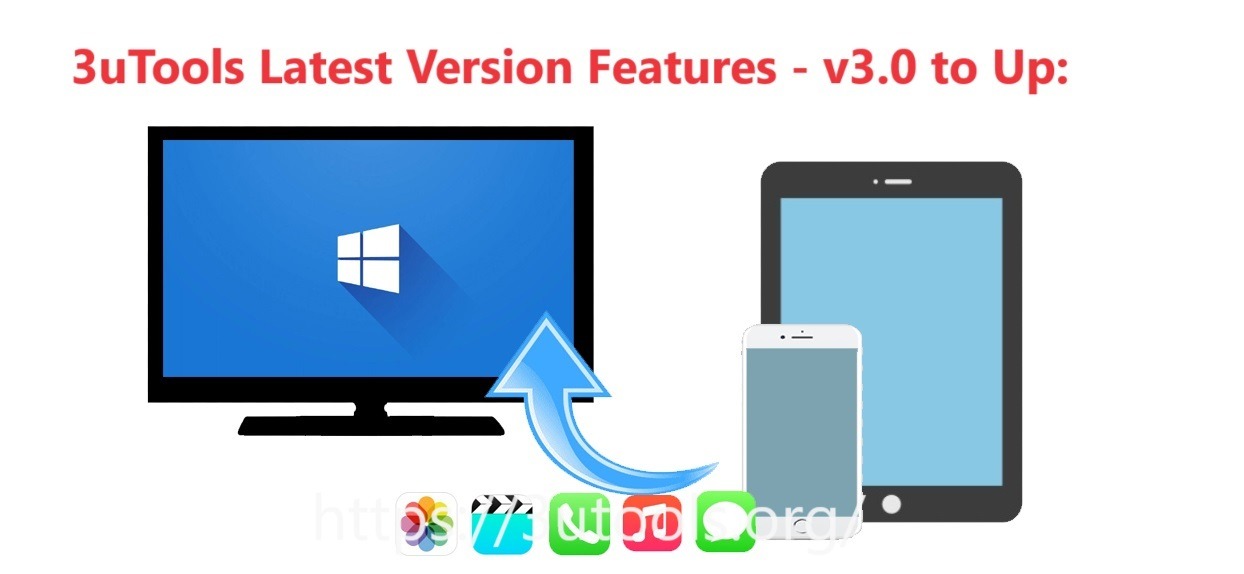 3uTools v3.0 and upper versions have a lot of new key features for iPhone and iPad devices. Also 3uTools mobile version now available directly download for iPhone and iPad. No need a PC to use it anymore.
3uTools v3 App Specifications
| | |
| --- | --- |
| App Name | 3uTools |
| Version | 3.05 Latest |
| Updated | 05/09/2023 |
| Category | Utilities |
| Price | Free |
| Platform | Windows |
| File Size | 202.08 MB |
| Developer | 3UTools |
What's New in 3.05 Latest Version?
New interface for 3uTools app.
Download 3uTools mobile version for iPhone and iPad.
Download and install Apps and Games directly (without PC ) to iPhone and iPad ( At the time, you can only download Apps & Games in Thailand and Vietnam ).
Other Country users can upload Photos by getting the 3uTools Mobile app.
FACEID dialog has been improved.
New UI Design.
Optimized the Online resources.
Fixed some known issues.
How to download 3uTools Mobile version for iPhone and iPad?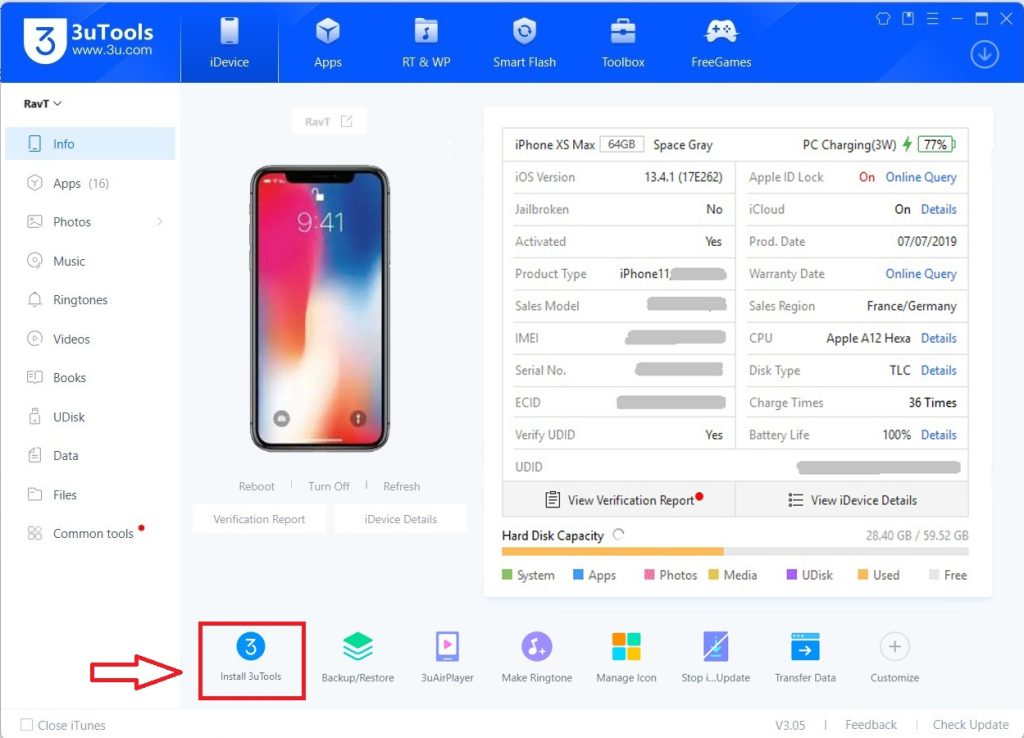 Now you can directly download and install latest apps and games for iPhone and iPad devices with 3uTools iOS version. follow here guide to download and install 3utools mobile version for iPhone and iPad.
For New Users
Download and install 3uTools for Windows version on your Windows PC ( Windows 7, 8, 10, 11 )
Open 3uTools and use a data cable to connect the iPhone / iPad to the computer.
After Connection completed, Install 3uTools for iPhone and iPad.
For Old Users
Upgrade your 3uTools old version to latest 3uTools v3.05.

After update process successfully completed, Connect your iPhone / iPad via USB cable.
In New 3uTools interface, Click "Install 3uTools for iOS" icon.
Then it will automatically install on your iPhone / iPad device.
Go to the home page of your iPhone. There, you'll see your 3uTools iPhone icon.
Click on it, you can download your favorite apps and games as you wish.
3uTools App Common Features
Robust iOS data and file management software that can enhance your iDevice experience.
View diverse statuses of your iPhone/iPad or iPod Touch devices, including jailbreak version, Flash, storage, model, and firmware info.
Download apps, games, wallpapers, ringtones
Install unofficial content
Flash and Jailbreak services are available with great versatility and diversity.
Macro & Mini Tools are available to optimize the iOS functions
Repair, restore, and recover your device
Personalize and customize your overall iDevice experience.
3uTools Mobile Frequently Asked Questions
Is it safe to use 3uTools mobile for iPhones?
3uTools is a safe and reliable application when you download it from official sources. Some users have reported false positives from their security software once 3uTools is launched.
Is 3uTools mobile free for iPhone and paid?
Yes, Now you can download and install 3utools mobile v213 for your iPhone and iPad. After you can download and install iOS apps and games directly to your iPhone device without PC. 3uTools is entirely free to use. There is no premium version that you have to purchase.
Is 3uTools legal?
Even though 3uTools has drawn some controversy regarding its data collection policy, there has been no solid evidence of any unlawful activity.
Conclusion
3uTools v3 and upper version has new interface with new amazing features. Now you can download and install 3uTools mobile v213 for iPhone and iPad device. Download and install apps and games directly without PC. 3uTools is the most efficient iOS data and file management software. The platform is free without upgrades or subscriptions.
Your dirty iDevice is totally controlled and organized by the app. Imagine becoming bored with your iDevice's typical functionality. With its personalization and modification choices, 3uTools lets you try something new. With each upgrade, 3uTools improves user satisfaction. As usual, this fantastic platform's 3.02 update has some great enhancements.