Brainwell Brain Training Game, Do you feel that you are out of sync with the complexities of daily life? All the difficult challenges you face may make you doubt your intelligence. Are you stumped by out-of-the-box problems? If you're in any of the above circumstances, it's time to sharpen your wits.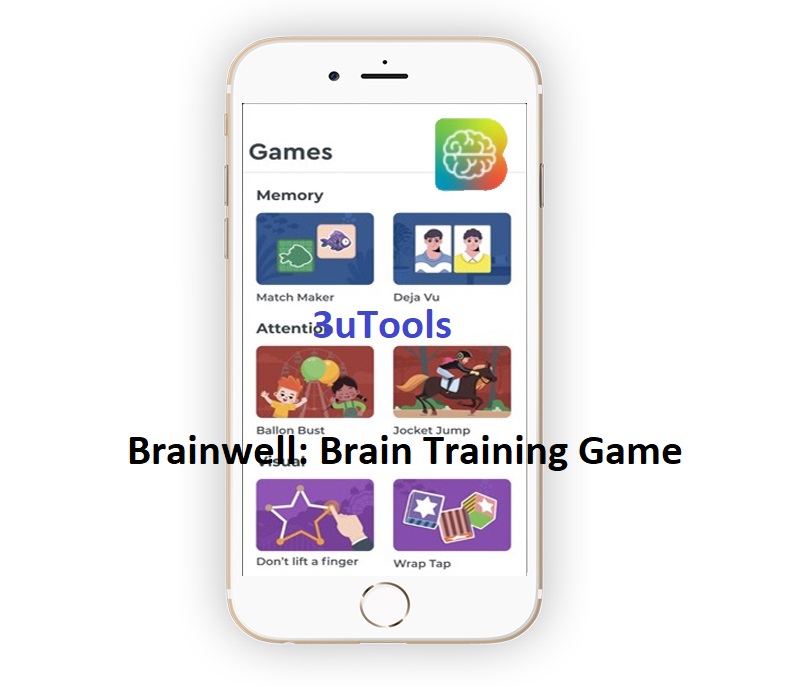 You can train your mind and thinking capacity to unleash your full cognitive potential so that the intricacies of life do not beat you. So, what medium can you use to enhance your brain power?
Brainwell – Brain Training Game Specifications
| | |
| --- | --- |
| Title | Brainwell – Brain Training Game |
| Version | 3.4.3 |
| Updated | Feb 11, 2022 |
| Size | 596.9 MB |
| Platform | iOS |
| Category | Education |
| License | Free |
| Developer | Monclarity, LLC |

Are You Ready to Enhance Your Brain with Brainwell?
A great program called Brainwell Brain Training Game is available for your iPhone/iPad/iPod Touch that you can use to fine-tune your brain capacity like never before. Connect your iOS device to a Windows computer running 3UTools, and you'll have access to the app, letting you set up and play Brainwell without having to transfer any data. In this post, you will learn everything about Brainwell and how you can benefit from using it properly.
Brainwell Brain Training Game Outstanding Features
The unique neuroscience behind the Brainwell brain trainer software allows you to play as you exercise your brain.
Free brain games designed under the guidance of professionals in the disciplines of neuroscience and neuropsychology are some of the most excellent tools it gives for mind and memory stimulation.
You're allowed to Play Brain Games to Improve Your Mental Abilities in Several Unique Ways.
Play Brainwell's brain games that test your memory, attention, and critical thinking. Test your problem-solving abilities while working on your verbal and visual skills with this brain trainer.
Since you play this app on your mobile, you can tweak your brain anytime. Every day, new games are added to the collection.
Play customized brainteasers every day to keep your mind sharp. Fun brain activities for kids and adults alike can help you improve your IQ.
Monitoring of Results – The daily quizzes and memory tests in Brainwell's Performance Tracking function allow you to receive a Brain Factor score and keep tabs on your progress.
Compare your results with others and set up friendly competitions – Use social media to compare your progress on the brain training program with others. You may compete with children and adults of all ages. After each game, see how your mental and memory abilities stack up!
Quality Resources to Awaken Your Brain
With over 50 daily brain games, brain puzzles, and memory tests to enjoy, Brainwell is a great way to keep your mind sharp. Improve memory, concentration, and general intelligence by playing these no-download brain teasers. Memory games for adults and children are available at our store.
A variety of cognitive abilities are honed via Brainwell's training programs. More than 50 games, all based on cutting-edge neuroscience research, make this an excellent resource for anybody looking to improve their mental agility. It's an app that adults and children can use to keep their minds active.
Brainwell for iPhone/iPad/iPod
Brainwell, a popular memory and cognition game app on iTunes, lets you play up to three different games for free each day. Using the app, you may push your mental abilities in various ways. Become a Brainwell subscriber, and you'll be able to access all 50+ cognitive training games to improve your attention, problem-solving, and memory. Using our website, you may access a plethora of free brainteasers for your iPhone, iPad, PC, or Mac. Challenge your intellect whenever and whenever you can!
The Experts Behind the Development of Brainwell
Brainwell is a fun method to develop your brain with neuroscientifically guided cognitive tasks. A variety of free games on our website are designed to test the mind while also improving memory and concentration.
Brainwell was developed by a multidisciplinary team of experts, including cognitive psychologists, neuroscientists, game designers, computer scientists, and software engineers. They worked together to build one of the most excellent and entertaining brain fitness trainers now accessible.
Use 3UTools for Better Experience with Brainwell
You can use the 3UTools store to get this app on your iDevice and play it easily. 3UTools is an excellent data management tool that you can install on a PC and use it connected to your iDevice. You will locate Brainwell – Brain Training under the Game section of the program.
You can download the game file to your PC and play it via your iDevice. This can save space and resources on your iOS gadget yet serve you the same level of entertainment you have when you directly install the app on the device itself.
Brainwell Subscription Rates
All rates are in US dollars and apply to residents of the United States only. Depending on where you live, you may have to pay in a different currency than you would in your own country. For the duration of the plan you choose, your iTunes account will be charged once at the time of purchase and then again at the start of each relevant term of the plan.
In your Account Settings after purchase, you may modify your subscriptions and disable automatic renewal. At least 24 hours before the end of the current term, we automatically renew our 1-month and 1-year membership plans. The unused part of a subscription term will not be refunded.
Brainwell: Brain Training Game Frequently Asked Questions
Q – Is the Brainwell app free?
A – Brainwell app is an excellent app to train your brain, it is free to use, but certain features require purchase
Q – Do Brain Training Games work?
A – The first letter, a consensus declaration from a global group of more than 70 experts, said there is no evidence to support using brain games to enhance cognitive performance or prevent cognitive decline.
Q – Is Brainwell Safe?
A – Yes, the game has been downloaded and installed on thousands of devices without complaint about security exploits or threats.
Final Thoughts
Brain training games are a specific and explicit sort of mind trainers that have positive long-term benefits. These wholesome results include sharper memory, rational power, thinking capacity, enhanced instincts, mathematical ability, aptitude, etc.
Brainwell comprises an arsenal of brain games that focus on improving the above intellectual merits of the gamers. The app also updates with fresh content, and you get access to cutting-edge games to optimize your abilities. No need to pay hefty fees to play all of these; it only incurs a reasonable cost to play them on your iDevice.