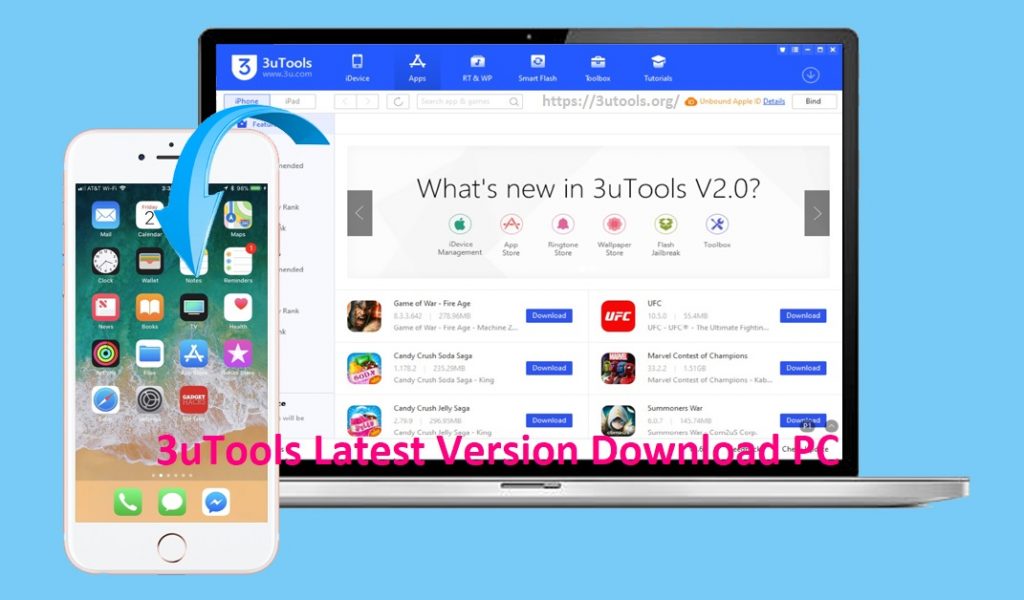 Why is 3UTools Not Your Typical Device Manager?
3uTools App is a handy iOS device management program usable on your personal computer, such as a desktop/laptop. It is more than a simple iDevice manager with its extensive list of utilities and services which you can benefit from. You can find iOS Apps, Games, Ring Tones, Wallpaper, Books, Firmware, Flash Services, Toolbox/Tweaks, and relevant tutorials.
Being Operated via Windows and Mac PC, 3Utools perfectly harmonizes with your iPhone, iPad, and iPod Touch, allowing you to install various programs on them. There is no need to install 3uTools on your iDevice when you want to obtain the above services; you only have to connect your device to the PC and then launch 3utools on your desktop or laptop.
3uTools facilitates users with the option to perform a one-click jailbreak, which is one of the most desired functions of this program. Once you have correctly connected your iDevice with the PC, you can refer to the jailbreak on the Toolbox section of 3uTools. In this post, we hope to cover some of the most critical aspects of the software, which we believe would help you immensely.
3uTools App Specifications
| | |
| --- | --- |
| App Name | 3uTools |
| Version | 2.6.0 |
| Updated | Apr 8, 2022 |
| Category | Utilities |
| Price | Free |
| Platform | Windows |
| File Size | 119.20 MB |
| Developer | 3UTools |

Safety and Multiple Windows and Mac Version Compatibility
Most users are concerned with iDevice health whenever they use non-official iOS programs, even if they are not directly installed on a particular device. In the case of 3uTools, it is installed on a PC and then linked to the iPhone/iPad via USB Cable or Wi-Fi Network. It has successfully passed multiple security exploit threats and has not been in any safety breach.
To get a complete understanding of how your data is used in 3UTools, we recommend you refer to the program's privacy policy on the official website. The application is free, and you can safely install it on Microsoft Windows XP, Vista, 7, 8, 10, 11 running both 32-bit and 64-bit Operating Systems and MacOS.
You can use any iPhone, iPad, and iPod Touch device with 3uTools and gain the full advantage of this fantastic data management tool. The software displays comprehensive information about the connected iDevice on your PC. You can see all software, hardware, and firmware details on the first page.
The Highlights of 3uTools App
All in One Jailbreak Suite – 3uTools Jailbreak includes popular methods like Unc0ver, Odyssey, Checkra1n, Electra, Chimera, Meridian, etc. It also comprises classic jailbreak for older iOS devices.
Flash Your iDevice – you can upgrade, downgrade, and reset your iDevice using several techniques such as Easy Flash, iTunes Fl, Pro Flash, and Multiple Flash.
App and Game Store – Download the latest and greatest iOS Apps and Games on your PC and then Play on your iDevice. You can have regular updates in this section
Ringtone and Wallpaper – Download the best and latest ringtones and wallpapers. You can use filters to find your perfect matches.
Toolbox – Dozens of Tweaks and Tools are available to get the most from your iDevice. The most important ones are backup/restore, Virtual location, Erase All Data, Batch Activation, iTunes Utility
Firmware Download and Upgrade –Using 3uTools, you can download the latest firmware for your iDevice. It is safe to get fresh updates via the 3UTools firmware update utility.
Connect with the 3uTools community via forum and use the Tutorial section to learn how to use 3uTools effectively.
What Can You Do With 3uTools App?
The UI of 3uTools has been improved to be more user-friendly, making it easier for users of all skill levels to manage, organize, upgrade, tweak, optimize, install, and uninstall applications and games on their linked iOS device. Users who like to rely on devices with large screens, such as desktop computers and laptops, will find this technique to be far more convenient and pleasant.
Another benefit of using 3uTools is that iOS Apps and Games can be downloaded to a PC instead of your iDevice and then played on your iPhone/iPad. This saves the internal storage of your iOS gadget. This software can create backups of crucial iOS data and then restore them to your iDevice when necessary.
The Tutorial portion of 3uTools is a useful addition to all of these tools since it explains how to use each tool and how to handle difficulties that are linked with the operations of various devices. The community has a positive attitude toward the platform, which contributes to its high level of activity. The developers are likewise quite eager, and they appear to provide the customers with their very finest work. You can connect with other members of the 3uTools community through the forum, and you can utilize the software's Contact US option to get answers to your questions.
Let's Explore 3uTools App
In the Apps section, you can access both iOS Apps and Games. These are neatly categorized under filters such as Recommended, Popular, Monthly Rank, and Total Rank. There are two columns dedicated to iPhone and iPad with different App and Game content. Before downloading any of these apps or games, you must bind your PC with your iDevice using the Apple ID.
You will be notified if you haven't connected to any iDevice. After the Apps section, you move on to Ring Tones and WallPapers, where you can find Music and Wallpapers Under Featured, Weekly Rank, Monthly Rank, Total Rank, and Latest. For music, you can select all genres and also create a ringtone of your own by using Make Ringtone Option.
The next section of 3UTools is concerned with flashing service. Here you get options like Easy Flash, iTunes Flash, Pro Flash, and Multiple Flash. Flashing can update the iOS system, erase user data, Factory Data Reset, or Fix the iOS system. Smart Flash provides further access to Firmware downloads and Advanced Tool, which incorporates Classic Device Support.
Dozens of Multifunctional Tools for an Incredible iOS Experience
In the Toolbox Section of 3UTools, you can benefit from an extensive list of tools that can enhance your iDevice experience in diverse forms. It includes functions such as Backup/Restore, Virtual Location, Real-time Screen, 3U Air Player, Erase All Data, Batch Activation, iTunes Utility, Clean Garbage, Update IPCC File, Transfer Data, Stop iOS Update, Make Ringtone, Accessibility, Delete Valid Icon.
The second half of Toolbox covers more tools, but we'll only list a few here. Reboot iDevice, Turn-Off iDevice, Deactivate, Open SSH Tunnel, Enter Rec Mode, Backup Boot Sec, Screen Time, etc.
3uTools complement all these tools with a Tutorial section that explains how to use them and resolve problems associated with the functions of such devices. The developers are also enthusiastic and seem to give their best to the clients. You can interact with the 3uTools community via the forum and use the Contact US option on the software to solve your problems.
More Pros and Less Cons
You can check for the latest app updates by using its built-in updater; it is usually located at the bottom of the software window. You can provide feedback using the feedback option near the check for update button. Inbuilt Search Tools are available for you to locate content quickly; these can be searches for apps, games, music, wallpapers, or even tutorials.
You can click the downward arrow in the upper right to access all your downloads. You can customize different functions of 3uTools using the settings option available on the top.
3UTools Frequently Asked Questions
Is 3uTools safe?
A – 3uTools has a number of security measures in place to keep your personal information safe. Do the developers share any of your personal information with anybody else? They do not share your personal information with any other parties.
What can 3uTools do?
A – You can use 3uTools to do all you need to do on iOS devices. To name a few examples, it may help you backup and restore your iOS devices' data, clear up garbage files, produce ringtones, convert video formats, and much more.
Can I jailbreak my iPhone with 3uTools?
A – 3uTools has a "Jailbreak" tool for people who wish to rapidly and easily jailbreak their iPhones and iPads.
Is 3uTools Free to Use?
A – For iOS users, 3uTools offers one-click downloads of free, authentic iOS applications and games, as well as free ringtones and HD wallpapers. With 3uTools, you can create and restore data backups and manage files, images, videos, and contact information.
Is there a 3uTools for Android?
A – Nope, this is a question that comes up frequently. Still no compatible tools for mange 3utools app on Android devices. You can use Tutu app appstore to download apps and games for android devices.
3UTools, as you can see, is a must-have app for iOS users who want to get more out of their devices. A user of an iPhone, iPad, or iPod Touch can unlock practically all of the features of this application. Flashing.
You may manage and arrange your iDevice with the help of 3uTools in addition to outstanding services such as jailbreaking or flashing. In order to conserve storage space, you can download apps and games to a computer instead of your iPhone. This app can be used on any iPhone model, new or old, and only on computers running Windows or Mac OS.
You can even run Windows XP on your computer without experiencing any slowdowns. You will receive Unc0ver and other alternatives to jailbreak your iDevice when you use this tool to do so, and trust us, it will be one of the simplest ways to do so. If you get stuck, look through the tutorials in 3uTools and on the community forums. It's the greatest iPhone/iPad app for data management and downloading.