One Of The Best iOS Photo Editing App That Can Free Download From 3uTools Store
Rookie Cam Photo Editor – In the present, value of the mobile devices depend on its camera facilities. According to social medias, everyone need best images to perform their lifestyle. Look at the every mobile platforms, every time they are updated with best features. Because the competition is too higher than past. No matter your device is Apple. There are lot of platforms available to challenge even iOS. These days Android is also much famous with latest features that added newly in the past few years.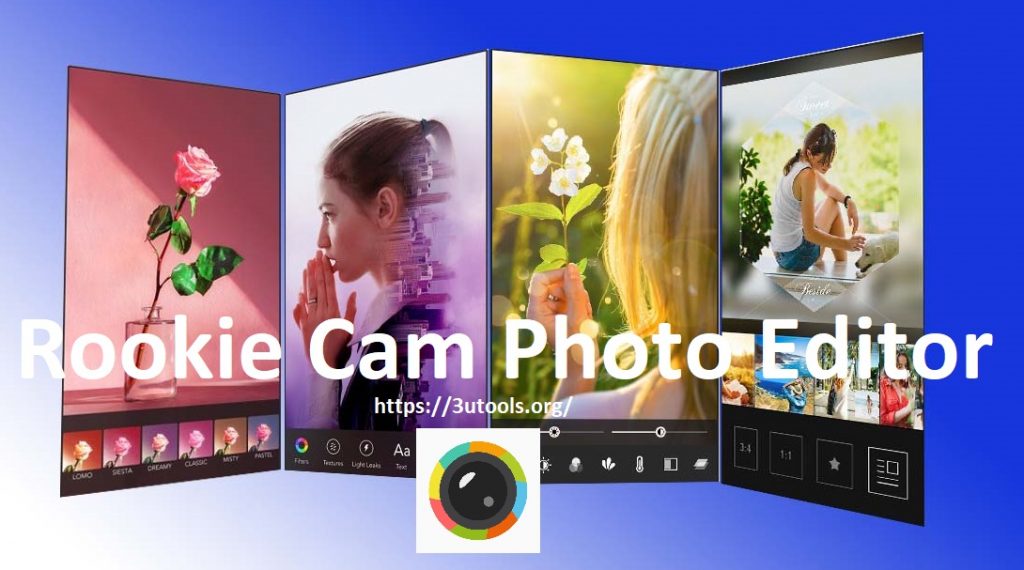 So, here we talk about some photo editing app that can help to increase your device camera quality. If you want to take pictures with your smartphone and quickly share beautiful results then Rookie Cam is the best option for you. This app is one of the best effective image editing tools that can use practically when you need. This kind of apps named as the filter camera photo editor that empowers those who wish to go beyond the basic photo editing. With the latest update of the Rookie Cam features, it brings the look and allow to feel the professional photographer thoughts.
Rookie Cam can attract user mind with its subtle mood on images. This Rookie Cam is available as a free version for both IOS and Android. Users can also free install it via official Google Play Store or Apple Store. But today we talk about how to download, install and best features on Rookie Cam latest version that provided by third-party 3uTools iOS Store. If you need much more facilities via Rookie Cam, then Filter and upgrade packs can be purchased.
Rookie Cam Features On iPhone, iPad, iPod Touch devices
This 3uTools Rookie Cam photo editor offers a wide range of processing options when editing images. Anything in the app can be adjustable as your prefer. Such as Brightness, Contrast, saturation, Color temperature and also Images can be cropped, rotated, mirrored or blurred. The operation is very simple. User can go back anywhere in the chronology without restarting. You can then download the images to public apps if you want. The app provides 60 Textures & Light Leaks. Two photos can be enhanced with the dual exposure tool and which also provides for beautiful effects.
A big advantage of the app is the freely available filters and different textures, light effects that are placed on the photos. The remarkable thing of this app is, users have ability to use large selection of editing options with great filters and light effects even in the free version. The app consist of professional photographer's favorite 178 Filters in 15 themes and who don't want to get them. Professional editing tools available with text functions, badges and stickers to express variety of moods, unique shaped frames more than any other alternatives and try to make you as a perfect editor. In here, you can combine up to 9 shots in a single stylish frame and collage your photos like a magazine, a poster or a themed album.
How To Use Rookie Cam On iPhone, iPad, iPod Touch Devices
Unlock your iDevice and release the Rookie Cam App by single click. Eye catching motion graphics, awesome video frames, editing features, design tools, collage and photo booth options will help you to make sophisticated photo editing. Let's get started by clicking middle screen button. Allow to access the camera to take photos and videos. You can also activate the notifications option. If you can upgrade the app with premium version, in addition free features, you can have 135 filters,52 motion graphics,266 stickers and patterns,192 textures,44 frames and magazines,145 shapes and no water mark or Ads.
Foot of the device screen consist of three options such as Video, Photo and Album. When you select the Video option, you can change the screen size and add more features such as Hot, Light-leak, Texture, Glitter, FX, Frame, Sticker and lot of effects can be added by clicking colorful circle option. User can change the camera into selfie or back with clicking camera button which is situated top of the screen.
You can manage the every setting options provided here. Such as Stabilization, Resolution can be changed, remove water mark, apply interval, Leveler, Anti-Shake, Silent Shutter, Auto save options, Grid, Mirror Mode, Geo-Tag, Notice & Update options.. etc. When you click WB AUTO option you can find Daylight, Shade, Cloudy, Fluorescent, Tungsten, Flash, Custom features for your videos. Ratio, Premium, Magazine options are available in Photo option. There are lot of features and options available here to use. Because of the wide range of service, it is hard to describe everything included there. So, it is up to you get the experience yourself.
How to Download and Install Rookie Cam – Photo Editor on your iDevices
Download 3uTools Application latest version from here.
Use any browser on your PC to visit our place and quickly you will be able to find the direct download link there.
Remember,3uTools directly can't install into your iDevices but on PC.
If you successfully downloaded the app, go to your Downloads folder on your computer or anywhere you usually store downloaded files.
Once you have find it, click it to install the application with allowing make changes according to PC.
It should start the installation process on your PC now.
Click Next to accept the License agreement and follow the on screen directives in order to install the application.
If you do the above correctly, then the Software will be successfully installed.
Once it has been installed, open the program and it will ask to connect your iDevice into PC with USB cable.
After connecting both PC and iDevice use 3uTools Search Bar by visiting " Apps " option.
Search for Rookie Cam – Photo Editor and click on the blue color " Install " button.
Now you will see the App was downloading right side of the PC screen.
After few seconds unlock your iDevice and look at the screen menu.
Rookie Cam App icon can be seen there and release the app, enjoy your favorite Photo & Video app on ios.
Conclusion – Rookie Cam is one of the best camera and photo app ever for Apple Users
After using this app, automatically you will think about why they would work together with Apple to improve the iPhone camera. So funny, it's too much, isn't it? Anything is not perfect. But can be perfect with combining. Furthermore we talk about Rookie Cam App in addition to the advantages, there are disadvantages as well. In here, you can't change different lightening options without clicking. User has to click so much to switch between options. And the app doesn't support Live Photo.
It is much needed when you have kids and pets. Because, they will never stand flipping still for a picture. So Live Photo really helps you to capture them in between motion moments. But many free features provided by the app are so insanely amazing. If you try this via 3uTools or official Apple Store, you will never turn back from it. It is glad to introduce like this app for Apple users and wish everybody could know about it through 3uTools Store.